Solar Cables (Photovoltaic Cables)
Solar cable is an electron beam cross-link cable rated at 120°C to withstand harsh weather conditions and mechanical shock in the equipment to which it belongs.
Solar technology will be one of the green energy technologies of the future, and solar energy or photovoltaic (PV) is becoming more and more widely used internationally. In addition to the rapid development of government-supported PV power plants, ZMS Cable is expanding its PV cable system production line with plans to put into production solar cables and assemblies that will be sold worldwide. ZMS produces high-quality 4 mm, 6 mm solar DC cables. You can always contact us for the latest solar cable prices and more discounts.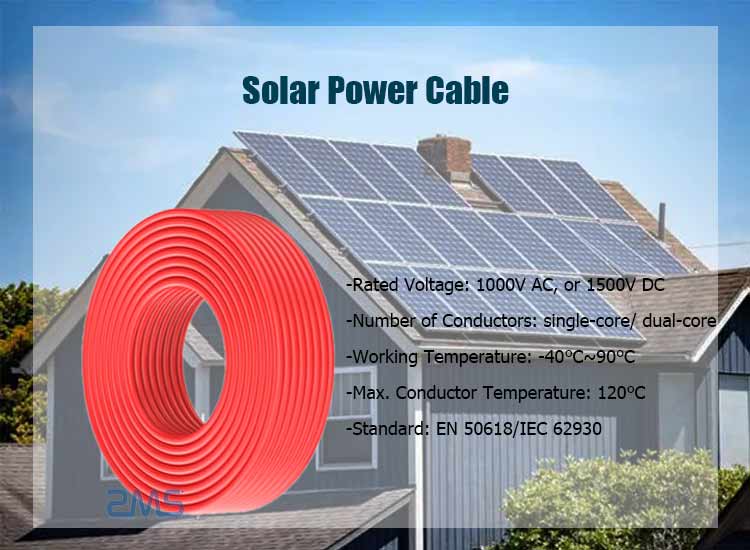 Types of Solar Power Cable Products
Solar PV H1Z2Z2-K Tinned Copper Cable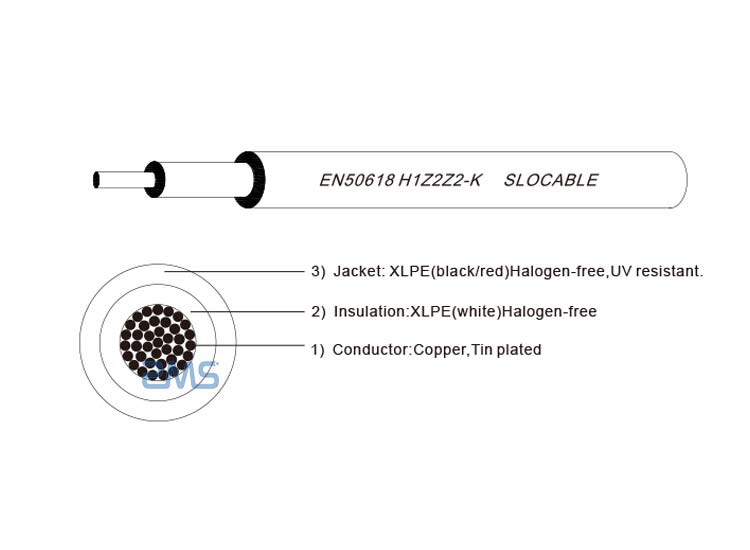 Solar PV H1Z2Z2-K cables are suitable for PV system installations in mobile and fixed installations.
Our products are certified by TUV. It complies with IEC 62930 and EN 50618 standards.
It is suitable for solar power farms, rooftop solar installations, floating power plants, etc.
It is a highly flexible cable, especially suitable for connection between photovoltaic solar panels.
This versatile solar cable is designed to meet the different needs of the solar industry.
It is suitable for wet and humid places.
Rated Voltage: 1000V AC, or 1500V DC
Conductor Material: Tinned Copper
Number of Conductors: single-core/ dual-core
Cross Section: 1.5 mm2~95 mm2
Insulation: Low smoke halogen-free (LSHF), XLPO
Outer sheath: Low smoke halogen-free (LSHF), XLPO
The High Voltage Test: AC 6,5kV, or DC 15kV
Working Temperature: -40℃~90℃
Max. Conductor Temperature: 120℃
Standard: EN 50618/IEC 62930
Certification: International TUV certification
Structure Of Solar DC Cables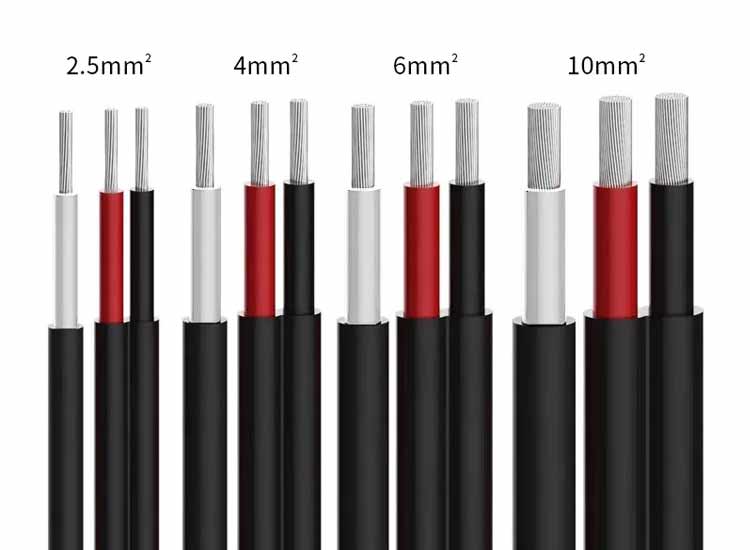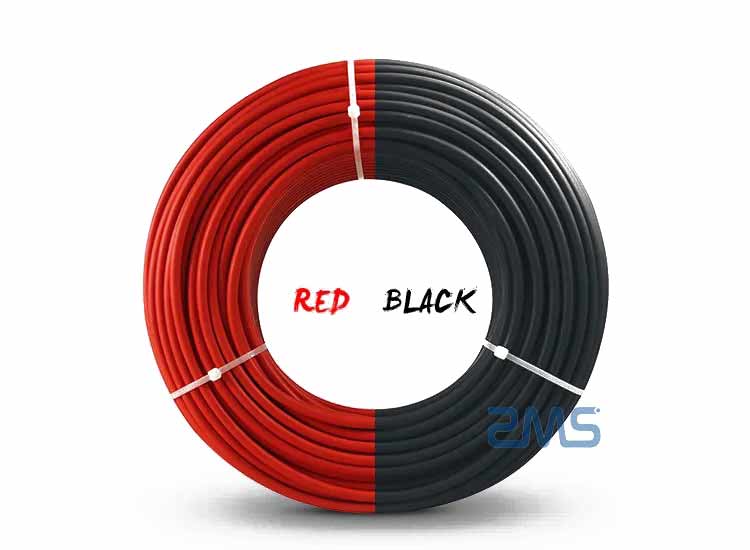 Solar cables are also known as photovoltaic cables, PV cables, etc. The structured shape is generally single-core round or two-core parallel.
Main Structure
1. Conductor: tinned copper wire soft conductor twisted together.
2. Insulation: halogen-free low smoke flame retardant irradiated cross-linked polyolefin.
3. Sheath: Halogen-free, low smoke, flame retardant irradiated cross-linked polyolefin.
Product Features
ZMS photovoltaic cable products are TUV certified (TUV certificate R50087840)
– Resistant to ozone, UV, water vapor
– Lead-free, halogen-free, flame retardant, very low smoke emission
– Oil resistant – chemically resistant
– Conductor temporary overload up to +400 °C
– Ambient temperature -40°C to +110°C (TUV limit +90°C)
– Excellent flexibility under low-temperature conditions
– Resistant to cuts, tears and crack extensions
– Insulation and outer sheath can be peeled off in one go
– Service life of more than 20 years (up to +90°C)
– Compatibility with standard connectors and connection systems
– Anti-bacterial, anti-microbial
PV Cable Technical Performance Requirements
1. Insulation resistance conductor resistance ρ≤4.95 Ω/km at 20 ℃. sheath surface resistance ρ≥ 109Ω.cm.
2. Pressure test water temperature 20 ± 5 ℃, immersion length 10M, time 1H, AC frequency voltage 8000V, maintain 5min without breakdown.
3. Combustion test vertical combustion test: the distance between the upper fixed point and the beginning of carbonization ≥ 50 mm. combustion downward extension of the distance to the upper fixed point ≤ 540 mm. combustion gas corrosion test: PH value ≥ 4.3, conductivity ≤ 10μ S / mm.
4. Inner layer insulation mechanical properties before the aging tensile test: tensile strength ≥ 5N/mm2, elongation at break ≥ 200%. After aging (135±2℃), tensile strength change ≤±30%, elongation at break change ≤±30%.
Air bomb aging tensile test: air pressure 5.5bar (127 ℃) tensile strength change ≤ + 30%, elongation at break change ≤ + 30%.
Thermal elongation test: oven temperature 250 ± 3 ℃, mechanical pressure 20N/cm2 elongation under load ≤ 100%, elongation after unloading ≤ 25%.
5. Mechanical properties of the sheath before aging tensile: tensile strength ≥ 10.0N/mm2. Elongation at break ≥ 300%.
After aging (85 ± 2 ℃): elongation at break ≥ 250%.
Change in tensile strength ≤ ± -15%. Elongation at break change ≤ -25%.
6. Weather resistance test Low-temperature bending test of sheath: -40±2℃ in the freezer, 16 hours, no cracks can be seen by visual inspection after the test.
Inner layer insulation and sheath ozone resistance: ozone concentration 250-300pphm, 24h, no cracking in 180o bending part after visual inspection. Sheath weather resistance cycle: sprinkling 18min, xenon lamp drying 102min test temperature 45±5°C.
Total test time of at least 500h immediately followed by 7.1 bending test at room temperature, no cracks.
7. No. 2 oil (ISO1817 ) test after oil immersion compressive strength retention ≥ 60%. Oil immersion after tensile elongation retention ≥ 70%. Diameter change after oil immersion ≤ 160.
Adaptation of Solar Cables to The Environment
For photovoltaic applications, materials for outdoor use should be based on UV, ozone, drastic temperature changes, and chemical attack.
The use of low-grade materials under that environmental stress will result in a brittle cable sheath and can even decompose the cable insulation.
All of these conditions will directly increase cable system losses, as well as the risk of a cable short circuit and, in the medium to long term, a higher likelihood of fire or personal injury.
Solar systems are often used in harsh environmental conditions, such as high temperatures and UV radiation.
Typically, the various materials available to us are PVC, rubber, TPE, and high-quality cross-link materials. Unfortunately, however, rubber cables rated at 90°C and also PVC cables rated even at 70°C are typically used outdoors, which significantly affects the lifetime of the system.
The advantage of solar cables is that they are rated at 120°C (for 20,000 hours of use). This rating corresponds to 18 years of use at a continuous temperature of 90°C.
And when the temperature is below 90°C, its service life is even longer.
Typically, solar equipment is required to have a service life of 20 to 30 years or more.
Solar cables, in an outdoor environment, have 8 times the service life of rubber cables and 32 times that of PVC cables.
Selection of Photovoltaic Solar Cables
The cables used in the low-voltage DC transmission part of the solar photovoltaic power system have different requirements for the connection of different components because of the different use environments and technical requirements.
The overall factors to be considered are cable insulation performance, heat and flame resistance, aging performance, and wire diameter specifications.
Specific Requirements are as Follows
1. Solar modules and components between the connection cable, generally use the connection cable attached to the module junction box directly connected, the length is not enough to use a special extension cable.
Depending on the size of the module power, this type of connection cable has a cross-sectional area of 2.5m ㎡, 4.0m ㎡, 6.0m ㎡ , and other three specifications.
This type of connection cable uses a double layer of insulation sheath, which has superior resistance to UV, water, ozone, acid, and salt erosion, superior all-weather capability, and wear resistance.
2. The connection cable between the battery and the inverter requires the use of UL-tested multi-strand flexible wire, connected as close as possible. Choosing short and thick cables can reduce the loss of the system, and improve efficiency and reliability.
3. The connection cable between the battery array and controller or DC junction box is also required to use UL-tested multi-stranded flexible wire with the cross-sectional area according to the maximum output current of the array.
The DC cable cross-sectional area of the named parts is determined based on the following principles.
Solar cell modules and components between the connection cable, battery and battery connection cable, AC load connection cable, generally selected cable rated current for each cable in the maximum continuous operating current of 1.25 times.
Connection cables between solar cell arrays and arrays, connection cables between batteries (groups), and inverters are generally selected with a cable current rating of 1.5 times the maximum continuous operating current in each cable.
The above is the recommendation of ZMS cable team personnel. If there is anything else you do not understand, you can always contact the ZMS team. We will be happy to serve you.
ZMS has a wide range of cable and conductor products for you to choose from. We will provide caring services and professional project solutions for everyone who needs them.
Quality Certification Services
ZMS cable products are manufactured according to GB, IEC, BS, NFC, ASTM, DIN, and other international standards. Our technical team can customize cable products that meet your requirements according to your need.
Profession Customer Service
ZMS provide free professional consulting services to provide you with one-stop project solution services and rapid product delivery solutions.
Delivery And Shipping Services
While we ZMS provide high-quality cables, we also provide good delivery solutions. While ensuring the safe delivery of products, we provide the best packaging and transportation solutions, greatly reducing customers' transportation costs.
ZMS cables packaging are provided in the form of wooden reels, corrugated boxes and coils. The cable ends are sealed with BOPP self-adhesive tape and a non-hygroscopic sealing cap to protect the cable ends from moisture. We can print the required marks on the outside of the barrel with waterproof material according to customer requirements.