Self-Regulating Heating Cable
ZMS provides a self-regulating heating cable that automatically adjusts its output power to compensate for temperature changes. It is suitable for various industrial, commercial and residential applications. Our heating cables meet the needs of most applications, including process temperature maintenance, anti-freeze protection of pipes, extension cord heating, anti-frost heave and more.
What is a self-regulating heating cable?
The power of a self-regulating heating cable will increase as the temperature decreases, and decrease as the temperature increases. Self-regulating heating cables use variable resistance carbon-based heating elements. And it is a parallel structure that can output power along its length to suit local conditions.
The function of our self-adjusting heating cable is the same as that of foreign Thermo BSX 8-2-FOJ Raychem BTV. Our heating cables have the following characteristics: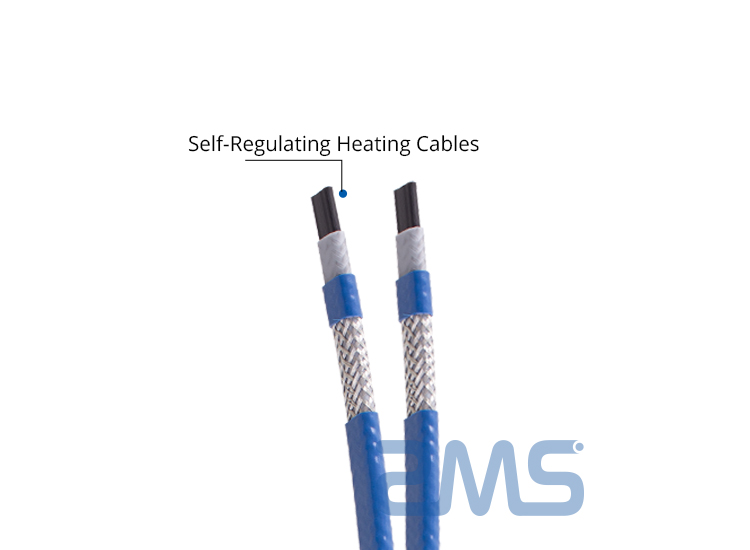 Construction & Scope of Application
Voltage Level: 12V 24V 36V 110V 220V 380V
Conductive Plastic Layer: PTC
Insulating Layer: Modified Polyolefin Insulation
Shield: Tinned Copper Wire Cover 80%
Sheath: Modified Polyolefin
If you don't know how to choose the products you need, or don't find the cable type and size you need on this page, don't worry. Contact us and send us your requirements, we can help you choose the right cable. You can provide us with the following information: cable voltage, conductor material, insulation and sheath material, shield type, armor type, etc. or you can provide us with cable installation environment, application requirements, etc. We will serve you wholeheartedly. ZMS Cable Supplier has a number of quality certification: ISO 9000, ISO 9001, ISO14000, ISO14001, ISO18000, CE, IEC, BS, NFC, ASTM, DIN, etc.
ZMS has a wide range of cable and conductor products for you to choose from. We will provide caring services and professional project solutions for everyone who needs them.
Quality Certification Services
ZMS cable products are manufactured according to GB, IEC, BS, NFC, ASTM, DIN and other international standards. Our technical team can customize cable products that meet your requirements according to your need.
Profession Customer Service
ZMS provide free professional consulting services to provide you with one-stop project solution services and rapid product delivery solutions.
Delivery And Shipping Services
While we ZMS provide high quality cables, we also provide good delivery solutions. While ensuring the safe delivery of products, we provide the best packaging and transportation solutions, greatly reducing customers' transportation costs.
ZMS cables packaging are provided in the form of wooden reels, corrugated boxes and coils. The cable ends are sealed with BOPP self-adhesive tape and a non-hygroscopic sealing cap to protect the cable ends from moisture. We can print the required marks on the outside of the barrel with waterproof material according to customer requirements.