CE-certified German standard cable N2XY-O/J N2XY cross-linked polyethylene insulated power cable is designed for use in industrial facilities and urban network distribution with a rated voltage of 0.6/1 kV. It is suitable for installation underground, in water, in cable ducts, in power stations, outdoors, indoors, in industrial and distribution boards, and in user networks where there is no mechanical damage.
ZMS Cable manufactures a wide range of low-voltage, medium-voltage, and high-voltage quality cross-linked polyethylene power cables. As a top cable manufacturer in the world, we aim to help you solve the problems you encounter when using N2XY cables. To help you choose the most suitable wire and cable. We have a large inventory. Contact us for more and better prices.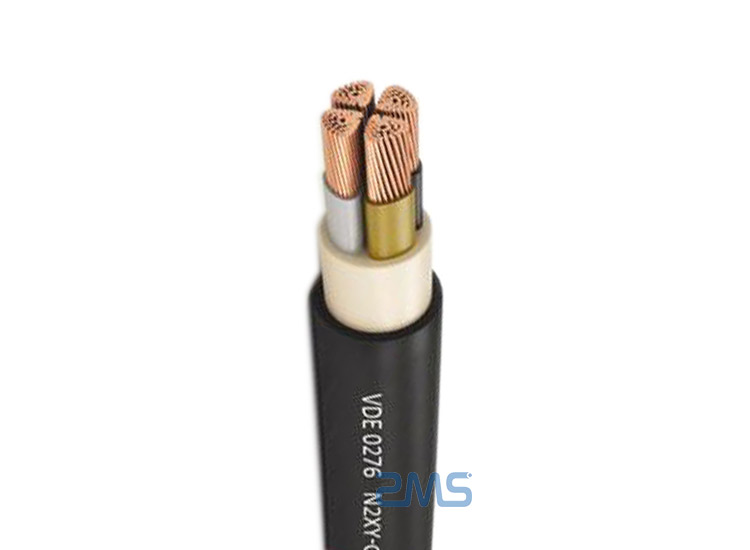 Conductor: Conductor conforming to HD383 Class 1 or Class 2
Insulation: XLPE insulation, DIV4 by HD620.1
Core Color: Core color according to DIN VDE 0293, 0276 part 603 or HD186
Number of Cable Cores: one core (single core), two cores (double core), three cores
Core Structure: concentric stranding of cores
Sheath: PVC outer sheath, DMV6 in accordance with HD620.1, generally black
Standards: TS IEC 60502-1, VDE 0276-603, IEC 60502-1
Rated Voltage: 0.6/1 KV
Test Voltage: AC 50Hz 4kV
Minimum Bending Radius: single-core 15 × cable OD multi-core 12 × cable OD
Temperature Range: Mobile installation: -5 ℃ to +50 ℃
                                  Fixed installation: -40℃ to +70℃
Flame Retardancy: A / B / C, low smoke and halogen-free, heat-resistant, oil-resistant, wear-resistant, cold-resistant, etc.

1. The long-term allowable operating temperature of the conductor should not be higher than 70℃.
2. The maximum short circuit (not more than 5 seconds) temperature of the conductor should not be higher than 160℃.
3. The power cable is not subject to horizontal drop when laid, and the ambient temperature should not be lower than 0℃.
If so, the cable should be preheated.
4. Perfect chemical stability, resistance to acid, alkali, grease, and organic solvent, and flame resistance.
5. Light weight, perfect bending performance, easy and convenient installation, and maintenance.
Characteristics of XLPE Insulated Cables
Cross-linked polyethylene insulated cable adopts the method of peroxide cross-linking, which changes the polyethylene molecule from a linear molecular structure to a three-dimensional mesh structure. It changes from a thermoplastic material to a thermosetting material and raises the working temperature from 70°C to 90°C, which significantly increases the current carrying capacity of the cable.
Cross-linked polyethylene insulated cable has the following advantages.
1. Heat-Resistant Performance: XLPE with a three-dimensional mesh structure has very excellent heat-resistant performance. It will not decompose and carbonize below 300℃, the long-term working temperature can reach 90℃, and the thermal life can reach 40 years.
2. Insulation Performance: XLPE maintains the original good insulation characteristics of PE, and the insulation resistance is further increased. Its dielectric loss angle tangent value is very small, and it is not greatly affected by temperature.
3. Mechanical Properties: Due to the establishment of new chemical bonds between macromolecules, the hardness, stiffness, abrasion resistance, and impact resistance of XLPE have been improved, thus making up for the shortcomings of PE which is easy to be cracked by environmental stress.
4. Chemical Resistance: XLPE has strong acid and alkali resistance and oil resistance, and its combustion products are mainly water and carbon dioxide, which are less harmful to the environment and meet the requirements of modern fire safety.
ZMS has a wide range of cable and wire products for you to choose from. We will provide caring services and professional project solutions for everyone who needs them.
Quality Certification Services
ZMS cable products are manufactured according to GB, IEC, BS, NFC, ASTM, DIN, and other international standards. Our technical team can customize cable products that meet your requirements according to your need.
Profession Customer Service
ZMS provide free professional consulting services to provide you with one-stop project solution services and rapid product delivery solutions.
Delivery And Shipping Services
While ZMS provides high-quality cables, we also provide good delivery solutions. While ensuring the safe delivery of products, we provide the best packaging and transportation solutions, greatly reducing customers' transportation costs.
ZMS cables packaging are provided in the form of wooden reels, corrugated boxes and coils. The cable ends are sealed with BOPP self-adhesive tape and a non-hygroscopic sealing cap to protect the cable ends from moisture. We can print the required marks on the outside of the barrel with waterproof material according to customer requirements.