IEC 60502 standard power cables are designed for power distribution from 1.8/3KV to 18/30KV at 50Hz. They are mainly used in power supply stations, indoor ducts, outdoor, underground, and submarine water, and for the installation of cables in industries, distribution stations, and power stations.
The corresponding IEC standards for power cable products are IEC 60502-1 and IEC 60502-2, where IEC 60502-1 is rated at 1k V (Um=1 . 2k V) and 3k V. 2k V) and 3k V (Um=3.6kV) cables, and IEC 60502-2 for cables rated from 6kV (Um=7.2kV) to 30kV (Um=36kV).
ZMS Cables is a leading manufacturer of high-quality cables for a wide range of applications. With over 30 years of experience in the industry, we have developed a reputation for excellence and reliability. Our state-of-the-art manufacturing facilities and a team of skilled engineers and technicians allow us to produce cables that meet the highest standards of performance and durability.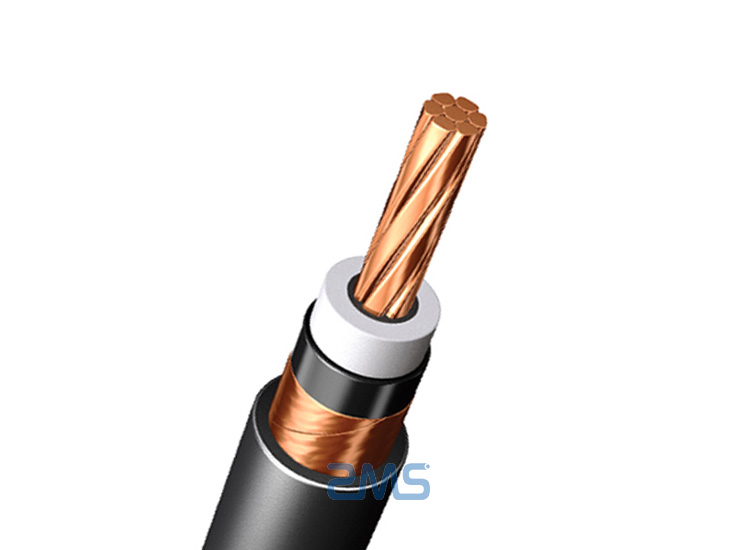 IEC 60502 Cable Construction:
Conductor: Plain annealed copper or aluminum conductors conforming to IEC 60228 Category 1, Class 2.
Conductor shield: A conductor shield consists of a non-metallic, semiconductor composite extruded layer firmly bonded to the insulation layer, excluding all gaps. Conductor shielding is not required for PVC, EPR/HEPR insulated cables in the 1.8/3KV to 3.6/6KV range.
Insulation: PVC is generally used for 1.8/3KV and 3.6/6KV cable range, but XLPE, EPR/HEPR insulation can also be used.
IEC 60502 Cable physical characteristics:
Operating temperature: up to 70°C (PVC insulation); up to 90°C (XLPE or EPR insulation)
Temperature range: -5°C ( PVC sheathing ); -20°C ( PE sheathing )
Short-circuit temperature (maximum duration in short-circuit not exceeding 5s): 140-160°C ( PVC sheath ), 250°C ( PE sheath )
Bending radius: 12 x OD.
Insulation thickness at nominal voltage

Extruded semi-conductive cross-linked composite layers are applied to the insulating outer layer. The semiconductor extrusion layer should include a bonded, or peelable semiconductor composite layer, with the ability to be soldered or terminated for removal.
As an option, a semi-conductive tape can be applied to the extruded semi-conductive metal layer as a mat layer. With a minimum thickness of 0.3 mm and a maximum resistivity of 500 ohms at 90°C, the meter shield is tightly mounted on the insulation excluding all air voids, and can be easily peeled off by hand in the field.
The insulation shield is not necessary for cables with PVC, EPR/HEPR insulation in the range of 1.8/3KV to 3.6/6KV. The shield can be wrapped around the perimeter of the semiconductor waterproofing layer to achieve longitudinal waterproofing.
Metal layer: Concentric copper shields are applied to the insulation, or the insulation screen or inner cladding. As an alternative, copper tape with a minimum thickness of 0.1 mm can be applied in overlays.
Separate sheathing (armored cable): Separate sheathing consists of an extruded layer of PVC, PE, or LSZH with a thickness of 0.02Du+0.6mm, Du being a calculated diameter based on technical parameters such as sheathing. The general thickness of the breakaway sheath is more than 1.2mm. the breakaway sheath is generally applied to the outer layer of the lead sheath, the thickness of the common breakaway sheath is less than 1.0mm.
Wrap-around mat layer (lead sheath armored cable): The wrap-around mat layer mainly consists of an impregnated/synthetic paper tape, or it can be a composite of two layers, and this tape consists of a special conforming material. The thickness is mainly around 1.5mm.
Armor layer (for armored cable): The armor layer is mostly round steel wire armor, which is applied to the outer layer of the separated sheath.
The outer sheath extrusion layer contains either an extruded thermoplastic compound (PEV, PE, or LSZH are available) or an elastomeric compound (polychloroprene CSP or chlorosulfonated polyethylene).
The typical sheath thickness is 0.035+D, D being the diameter of the sheath in millimeters.
The outer sheath thickness should be less than 1.4mm for non-armor cable and non-armor total sheath cable, metal layer shield, or concentric conductor, and more than 1.8mm for concentric conductor total sheath metal armor cable.
ZMS Cable is a leading manufacturer of high-quality cables for a wide range of applications. Our products comply with various international standards, including IEC60502, IEC60228, IEC60332, IEC60840, etc. Our state-of-the-art production facilities and a team of skilled engineers and technicians enable us to produce cables that meet the highest standards of performance and durability.
ZMS has a wide range of cable and wire products for you to choose from. We will provide caring services and professional project solutions for everyone who needs them.
Quality Certification Services
ZMS cable products are manufactured according to GB, IEC, BS, NFC, ASTM, DIN, and other international standards. Our technical team can customize cable products that meet your requirements according to your need.
Profession Customer Service
ZMS provide free professional consulting services to provide you with one-stop project solution services and rapid product delivery solutions.
Delivery And Shipping Services
While ZMS provides high-quality cables, we also provide good delivery solutions. While ensuring the safe delivery of products, we provide the best packaging and transportation solutions, greatly reducing customers' transportation costs.
ZMS cables packaging are provided in the form of wooden reels, corrugated boxes and coils. The cable ends are sealed with BOPP self-adhesive tape and a non-hygroscopic sealing cap to protect the cable ends from moisture. We can print the required marks on the outside of the barrel with waterproof material according to customer requirements.