Electric Vehicle Charging Cable (EV Charging Cable)
With the maturity and application of electric vehicle technology, the construction of basic charging facilities for electric vehicles has become the focus of development. The electric vehicle charging cable is a basic component of electric vehicle charging facilities, and its performance has an important impact on the whole charging process. ZMS is a professional wire and cable manufacturer. We produce and customize power cables, control cables, industrial cables, automotive cables, construction cables, submarine cables, etc. We supply high-quality cables with the best competitive market price. Contact us for the best offer on the EV charging cables.
EV Charging Post Cable Performance
Oil resistance: excellent, excellent resistance to chemical substances, acid, alkali, solvents, and various hydraulic oils.
Weather resistance: exceptional UV resistance, sunlight aging performance, suitable for outdoor use.
Flame retardant property: conform to IEC. The unique structure is adopted and specifications can be customized.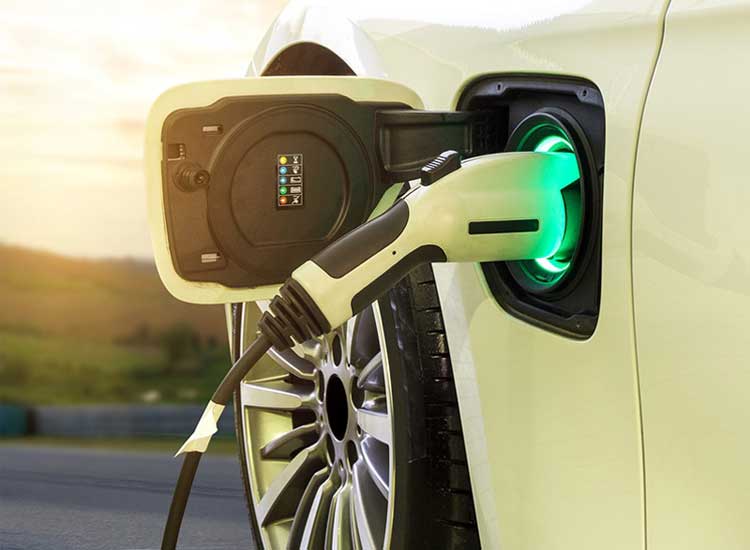 Characteristics Of Electric Vehicle Charging Cables
Standard electric vehicle DC charging pile is commonly known as "fast charging". In the charging process, the input voltage of the DC charging post adopts a three-phase four-wire AC380V±15%, frequency 50Hz, and the output is adjustable DC power, which can directly charge the power battery of electric vehicles. It can realize fast charging requirements. The standard electric vehicle AC charging pile is commonly known as "slow charging". The AC charging pile only provides power output, has no charging function, and needs to connect to the vehicle charger for electric vehicle charging. Which is the amount of large charging pile cable requirements.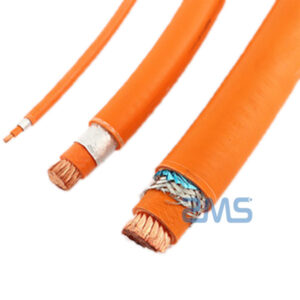 EV Shielded High Voltage Cable
EV Charging Pile Cable
Standard EV DC charging pile cables must have high performance. It is applied to the charging pile system, floor-mounted charging pile, and wall-mounted charging pile.
Where the voltage is 1KV (DC), test voltage 6000V/min (DC).
Fixed laying: 4×cable outer diameter.
Mobile installation: 7.5×cable O.D. or smaller temperature range.
Fixed laying: -50℃~90℃, mobile installation: -40℃~90℃.
Oil resistance: very good, excellent resistance to chemical substances, acid, alkali, solvent, and various hydraulic oils.
Weather resistance: excellent UV resistance, sunlight aging performance, suitable for outdoor use.
Flame retardant property: conform to IEC. The special structure is adopted and specifications can be customized.
Use Characteristics
1. The cable has the characteristics of high voltage resistance, high-temperature resistance, anti-electromagnetic interference, stable signal transmission, more than 10,000 times of distortion resistance, more than 50,000 times of wear resistance, more than 50,000 times of wear resistance, oil resistance, water resistance, acid and alkali resistance, UV resistance, etc. in the charging process of the signal control and transmission network system.
2. The concentricity of the product is good, up to 80% or more, which makes the cable stable and reliable in high voltage resistance.
3. The minimum bend of the product in 4D, which is convenient for use between the corner wiring in narrow spaces. The product has high flexibility, very convenient for vehicle wiring.
4. The rated temperature of the product is 125℃, which is great technical progress and improvement for the use of once-formed soft grade insulation material, which is very important to ensure that the cable has flexible performance and improve the current carrying capacity of the cable.
Construction and Feature Of Electric Vehicle Charging Cables

| | |
| --- | --- |
| Construction |  Features: |
|  1. Conductor |  Rated temperature :-40℃~90℃ |
|  Material: Bare Copper |  Rated Voltage : AC 450/750V |
|  2. Insulation |  Insulation Resistance:≥0.037MΩ.km at 60℃ Comply with CQC1103-215 |
|  Material: TPE |  Flame Test:VW-1 Test method Comply with UL 2556 |
|  Color:Brown, Blue, Yellow/Green |  Min: Bending Radius: ≥6*OD |
|  3. Filler |  Dielectric Voltage: 2.5kVac/15min. No Breakdown |
|  Material: PP Cord |  Low temperature impact  :-40℃, No cracks |
|  4. Tape |  Hot Shock:150℃/1h No cracks |
|  Material: Non-woven fabrics |  Oil Resistance:IRM902,IRM903,Gasoline  20h OD Variation≤15% No Cracks |
|  5. Sheath |  Crush resistance :Sq≤4, crush force≥4KN ; 4≤Sq≤35, crush force≥11KN; |
|  Material: TPE or PU |  Resistance to Acid and alkali:168h, Tensile Strength Variation ≤30%; Elongation≥100% |
|  Color: Black  |  Environmental Requirements:Compliant with RoHS and REACH  |
Performance Of Electric Vehicle Charging Cable
The electric vehicle charging cable is the carrier that connects electric vehicles and charging ports, and its basic role is to transmit electrical energy. It is also equipped with a certain number of signal lines, control lines, power auxiliary lines, etc. to ensure that the whole charging process is controlled accurately and operated safely and without errors. The most important thing is to ensure the safety of the charging cable, and the structure most closely related to its safety is the insulation structure and the structure of each protective layer. Therefore, its key process is its insulation process and protective layer process.
Considering the mechanical performance requirements, electrical performance requirements, and usage performance requirements of the charging cable. ZMS produces new low-smoke halogen-free flame retardant materials, polyester-type elastomers, polyurethane materials, etc., which are more suitable for the insulation and sheathing materials of electric vehicle charging cables. And it has become the key development direction of charging cable products.
The new halogen-free materials, because there is no halogen, no harmful gases and corrosive gases produced during combustion. And at the same time have less smoke emission and good flame retardant properties and mechanical properties, can make the electric vehicle charging cable in use for a longer time.
How To Measure The Quality Of Electric Vehicle Charging Cable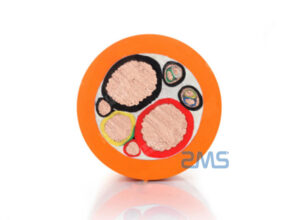 Electric Vehicle Charging Cable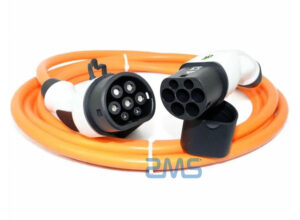 Electric Vehicle Charging Plug
To be able to use the process of excellent performance, you need to know how to select and measure the quality of the wire.
You can choose a good reputation electric car high voltage cable to achieve high quality charging demand for new energy vehicles. And to ensure that the rated current in the continuous charging works for a long time.
This will reduce the bad phenomenon in the charging process and can also improve the life of the wire.
Measure the quality of the wire mainly depends on several aspects.
1. withstanding ability
The ability to withstand the use process is critical and affects the quality of performance. The quality of the wire can be measured by understanding its overall resistance to heat and crushing and corrosion resistance. As the wire is used in different environments, only good resistance can highlight the quality of use. And can be used in the long-term process of security and will not be easily damaged.
2. Bending radius degree
In measuring the electric car high voltage wire can also be measured by looking at the bending radius of the wire to measure. The charging operation of the car is often adjusted according to the different vehicle's charging. Wire bending radius degree of good wire to achieve the needs of different car charging, bending degree can also protect the wire from being broken or broken skin and other phenomena. As well as the use of the process of charging flexibility.
3. The quality of copper is good or bad
Identify the car wire can also be identified by looking at the quality of copper to identify the quality. Good copper wire not only has a long service life and high security and can be fast when charging. Good copper wire both good electrical conductivity and energy saving, reducing charging costs. Therefore, the quality is mainly determined by the quality of the copper.
Advantages Of ZMS Electric Car Charging Cable
Our products are soft, feel good, bend radius less than 5D, oil resistant, acid and alkali resistant, water-resistant, wear resistant, tensile resistant, crush resistant, anti-cracking, UV resistant, and color stable. Good flame retardant performance. Resistant to bending more than 50,000 times. All materials comply with RoHS 2.0 & REACH environmental standards.
ZMS cable team pays real-time attention to the direction of new energy market development and understands the industry dynamics. At the same time, we keep close contact with all famous new energy vehicle manufacturers to keep abreast of new market demands and satisfy customers with quality solutions.
We not only produce high-quality EV charging cable, but also types of cable insulators, cable terminations, cable lugs, overhead line fittings, and other cable accessories made of top materials. Contact us, and we will respond to you promptly with professional advice and the lowest price!